AVOIDING PUTTING UP A
WALL OF TEXT®©™
BY POSTING HERE, TOO.
SO ONE OF THE WINNING MONUMENTS IS HAN HAACKE'S "GIFT HORSE," CHECK IT OUT: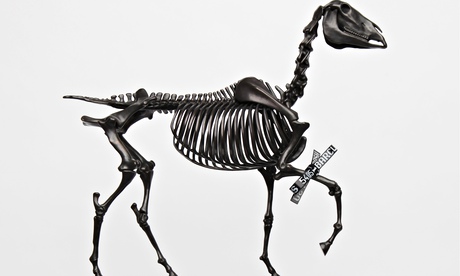 I, FOR ONE, WELCOME THIS, I LOVE ART THAT PUSHES THE ENVELOPE IN SUCH A SIMPLE WAY. I THINK LOUIS WOULD FIND THIS AS DISTASTEFUL AS THE MURALS UNDER THE THEATRE D.V., LESTAT WOULD FIND IT AMUSING (THIS IS THE GUY WHO CAN LAUGH FOR HOURS RE: CARPET PATTERNS, HE'D SEE A MONTY-PYTHON ANGLE HERE W/ THE LITTLE CAPITALISTIC STOCK-MARKET-TICKER-TAPE TOUCH).
DAVID COULD PROBABLY WRITE A WHOLE THESIS ON IT, FOCUSING ON THE FACT THAT A HORSE SKELETON IS MACABRE, IT'S A "MEMENTO MORI" (Wiki says: Latin 'remember that you will die,' an artistic or symbolic reminder of the inevitability of death), ESPECIALLY WHEN YOU REMEMBER THAT THERE ARE OTHER MONUMENTS IN THE AREA WITH FULLY-FLESHED HORSES WITH (I ASSUME) PRETTY FLOWING MANES, TAILS, AND DRESSAGE. THIS ONE HAS BEEN STRIPPED OF ALL THAT FLUFF IN STARK COMPARISON. SAYS SOMETHING ABOUT MORTALITY VS. BASIC NEEDS VS. EXCESSIVE MATERIALISM.
REMINDED ME OF THIS LINE, FROM IWTV:
"'You're greedy, both of you!' [Lestat] said...'Immortality is not enough for you! No, you would look the Gift Horse of God in the mouth!' "
(part I, ch. 11)
( Moar... )